Dr. Kristine Stellato is a veterinarian in West Chester who is passionate about integrative medicine, dentistry, and nutrition.
Book An Appointment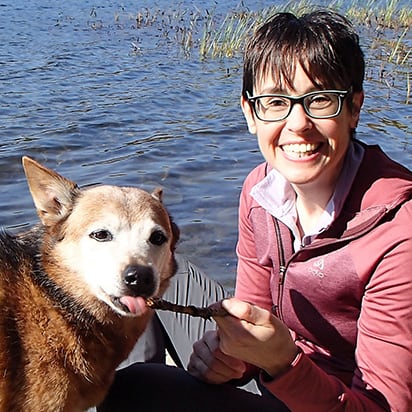 Dr. Kristine Stellato
After graduating from The University of Rochester with a music degree and biology minor, Kristine moved to New York City to continue her studies in musical theater. Music business burn-out led Kristine to an Upper West Side small animal hospital where she had the pleasure of meeting Regis' cat and Kathleen Turner's boxer. With a desire to learn more about canine behavior, she moved to Texas and received her certification in training and behavior from Triple Crown Academy. Kristine then moved back to her home town in Pennsylvania to operate her dog training business for several years.
A desire to help her clients even more led her to PennVet and soon after, a certification in veterinary acupuncture. She is currently working towards her certification in animal hospice and palliative care, for she absolutely adores those gray faces and making sure the four-legged geriatrics spend their golden years in comfort. Integrative medicine is her passion, along with dentistry and nutrition.
She enjoys off-hours with her Australian Cattle Dog, her Orange Cat, and her two-legged partner in crime.