Weight Loss - OFF TEMPORARILY
Healthy, Medically Supervised Weight Loss
Our West Chester vets blend dietary counseling with medically supervised exercise programs to safely and steadily reduce your pet's weight.
Weight Loss & Obesity in Pets
At West Chester Veterinary Medical Center, we are seeing more cats and dogs with weight problems come in for assessment and treatment. This is in line with a growing national trend of obesity in our pet population.
Obesity not only greatly reduces your pet's mobility and comfort, it can also contribute to a significantly shorter lifespan as obese pets are more susceptible to certain diseases.
That's why a medically supervised weight loss treatment and planning program is critical to your pet's recovery. With the right amount of physical activity and dietary changes, we can help you and your pet enjoy many more years together.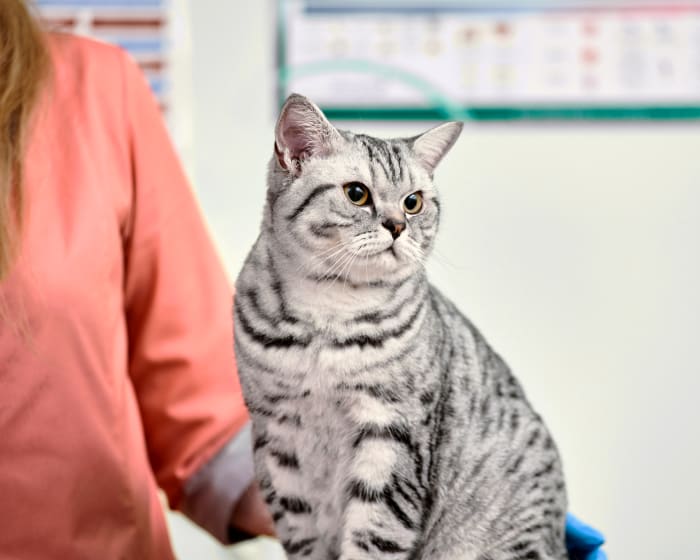 What to Expect During Weight Loss Planning & Treatment
Weight loss planning and treatment programs involve working with our rehabilitation specialist and veterinary team. Together, we'll introduce physical activity and dietary changes that will positively impact your pet's health and wellbeing. Our team can develop a comprehensive program that will meet the needs of your pet - and your family.
Rehabilitation Options for Weight Loss
Obesity management and weight loss should be a partnered effort between you and your veterinary caregiver.
Our rehabilitation specialists pair individualized dietary counseling with a medically supervised exercise program to help your pet safely and steadily lose weight.
Dietary Counseling

Just like their humans, some cats and dogs require specialized diets or specific food due to medical conditions such as issues with weight or food allergies.

Deciding which food to feed your pet and in which amounts isn't as simple as picking a package from a store shelf and following the instructions on the package. That's why we're here to help you choose a diet that's suitable for your pet.

We will first examine your pet to find out whether they have allergies, nutritional deficiencies or conditions that need special attention and which could benefit from specific dietary changes.

Then, we'll create a nutrition plan for your pet and provide advice on appropriate foods based on your pet's specific weight loss and nutritional needs.

Exercise Program

A comprehensive, customized exercise program goes hand-in-hand with dietary counseling to help you get your pet to a healthy weight.

The right exercise program can make all the difference to your pet's physical and mental health - and help the two of you bond with some much-needed play time.
Weight Loss Planning & Treatment FAQs
Read our most frequently asked questions about weight loss planning and treatment for pets.
Ask a Different Question