Cruciate Injuries in Dogs - OFF TEMPORARILY
Rehabilitation for Cruciate Injuries
Physical therapy from our West Chester vets helps reduce pain, increase range of motion, minimize post-operative swelling and more to help your dog heal following surgery.
Cruciate Injuries
A dog's cruciate ligament provides stability to the knee (stifle) joint. Without this stability, the joint moves too much, which can lead to progressive osteoarthritis (OA).
Cranial cruciate ligament injuries to the knee are commonly found in dogs. By starting early rehabilitation intervention a few weeks after surgery, we are often able to help improve their health and quality of life.
Early rehabilitation can include treatments such as therapeutic exercise, aquatic therapy and more. This can have many positive impacts, from reducing pain and swelling to improving balance.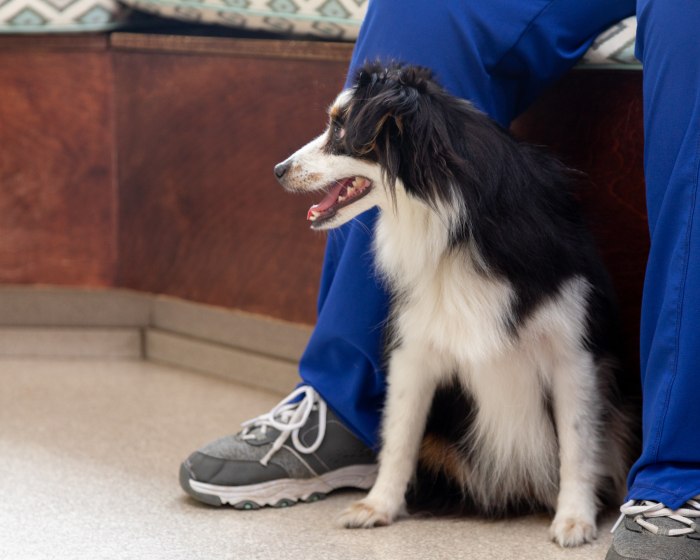 What to Expect From Cruciate Ligament Repair & Rehabilitation
We usually begin rehabilitation a few weeks following your dog's surgery to help minimize post-operative swelling, reduce pain, and more. Custom-designed treatment programs may include manual techniques such as massage or aquatic therapy. Exercise at home is also very important.
Cruciate Injury Rehabilitation Options
Our highly trained veterinarians can use a number of therapeutic interventions in treatment programs, including:
Manual techniques (massage, passive range of motion, joint mobilization)
Therapeutic exercise
Aquatic therapy
Modalities such as heat or cold packs, cold laser therapy and neuromuscular stimulation
We want you and your dog to be as comfortable as possible during the rehabilitation period, and are happy to answer any questions you may have regarding treatment.
Cruciate Repair & Rehabilitation FAQs
Read our most frequently asked questions about cruciate repair and rehabilitation.
Ask a Different Question